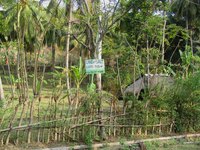 Purchasing a land in California is usually more expensive than anywhere else in the United States. You do not have to be a resident of the state to purchase land, and most of the time you don't even need to be a United States citizen. You will probably need the help of a real estate agent who is more familiar with the types of lots and any potential extra costs associated with each piece of land.
Decide how much you want to spend. Land in California is more expensive than in the rest of the country. Land values near any of the big cities can cost $300,000 or more, and many are going in the $400,000 to $700,000 price range. Typically the price of the lot should be about one-third the value of the house. If you're thinking of purchasing a lot valued at $400,000, it means you should build a house worth $1.2 million to realize the value of the land. Talk to your mortgage broker for specifics related to your lot.
Interview several real estate agents who buy and sell land. An agent will help you find and choose land based on your budget and based on the purpose of the land. Choose the agent you feel the most comfortable with and visit the lots he recommends for you.
Analyze the topography. Near the big cities, most of the easily buildable land in California is gone. This means the land available may be either too rocky to build on, too steep or in the middle of the desert. However, with a bit of patience you can find some suitable land for your needs. If you're looking for land to keep livestock, it should be pretty flat or have smooth rolling hills. Bad topography affects the feasibility of putting in septic systems and building anything on the land.
Ask the agent to investigate any potential expenses that may come with the lot. Do this once you have several land prospects picked out. Get an engineer to inspect your top prospects for any potential expenses or extra costs.
Write up an offer according to your budget and get a pre-approval letter from your mortgage broker.