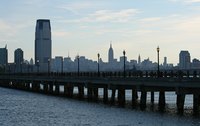 If you are a business in New Jersey, you must register with the New Jersey Division of Revenue. The Division of Revenue provides an online, interview style application to guide you through the process of registering with the state. How many questions you have to answer depends on the information you enter on the form (for example, what type of business you have). Once you have completed the application, the Division of Revenue will send you the forms and information necessary to meet New Jersey tax and employer law requirements.
Navigate to the New Jersey Division of Revenue Online Business Registration Service link listed in References.
Enter your Federal Employer Identification Number (FEIN) or your Social Security Number (SSN) if you are a partnership or proprietorship, or enter your Corporation (CORP) number and FEIN number to register a new entity if you are a representative of a corporation. If you do not have a FEIN, apply online to the Internal Revenue Service (IRS); click on the link to the IRS EIN Assistant in Resources to start your application.
Click on the "Submit" button to begin your application.
Complete the interview-style application. Once you have completed the application, the state will send you all of the information forms you need. Once you have been approved for registration, you'll be issued a temporary New Jersey state sales tax certificate.