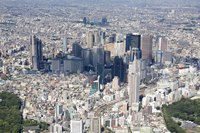 When you land in Narita, your journey to Tokyo is not over. The airport operates the bulk of the city's international flights, but sits on the outskirts of the greater metropolitan area. You still have some distance to cover to get to Tokyo Station.
Narita Express
The easiest and quickest way to Tokyo Station from Narita International Airport is aboard East Japan Railway's Narita Express train. The train skips all stops during the hour-long ride until the end of the line at Tokyo Station. The station is located beneath Terminal 1. Tickets can be purchased inside the station or in advance online through the JR-East website. Trains depart every 30 to 60 minutes.
Sobu Line
If you are looking to save a little money then you may want to consider the JR Sobu Line. The train leaves the same station and uses the same tracks as the Narita Express, but makes stops along the way. The trip takes about 90 minutes and leaves Narita Station every hour or so. Tickets can be purchased at the station underneath Narita's Terminal 1.
Keisei Skyliner and Limited Express
The Keisei Electric Railway's bullet trains reach speeds of 100 miles per hour. Trains from Narita go to Nippori Station on Tokyo's subway system where you can transfer to Tokyo Station. The Keisei Skyliner takes about 40 minutes to get to Nippori Station while the Keisei Limited Express takes about an hour and 15 minutes. The subway from Nippori to Tokyo Stations takes about 10 minutes. All tickets can be purchased at the boarding areas. Catch Keisei trains from the station at Terminal 1 or Terminal 2.
Airport Limousine Bus
Limousine buses depart Narita Airport's Terminal 1 and 2 for travel to Tokyo Station. Outside look for a white and orange bus. Nearby, you'll find a ticket counter or a ticket machine. No prior reservations are necessary, and buses depart every 15 to 20 minutes. Special round-trip tickets are available to foreign tourists; the return trip must be used within 14 days of the outgoing trip. The ride takes between an hour and 15 minutes to two hours, depending on traffic.