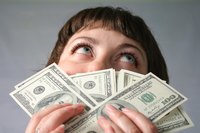 Nobody likes to wait to get paid, but if you file an Arizona tax return, you can at least check the status of your return so you know when you can expect your tax refund. Arizona lets you check your state tax refund status online through the state department of revenue's "Where's My Refund" site at https://www.aztaxes.gov/CheckRefund, or by phone by calling either (602) 255-3381 or toll-free 1-800-352-4090.
Required Information
You need your Social Security number, filing status, zip code and the tax year you're asking about before you can get your refund information. The online portal won't allow you to check your status if you're missing any of that data. If you're checking your refund status by phone, have the information ready before you call to speed up the process.
Deposit Timeline
If you're hoping to receive your refund quickly, consider efiling your return. According to the State of Arizona Department of Revenue, you can expect to see your refund in as little as 10 days if you efile and elect to have the refund directly deposited in your bank account. Paper returns are much slower: it takes up to 12 weeks for you to receive your refund.