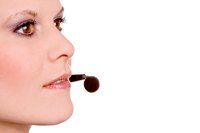 Multi-level marketing (MLM), or network marketing, is a home-based business opportunity where people recruit other members into their organization, or "downline." This allows individuals to earn income off of the efforts of others. Individuals have the potential to make money in the MLM sector, but they first need to promote their business. There are a number of different ways to market an MLM opportunity.
Things You'll Need
Website
Phone leads
Toll-free telephone number
Mailing leads
Postcards
3-way calling
Contact the MLM company that you joined and ask if they provide websites for their members. Have them create a site for you that includes your name, business name, phone number and email address. Charges may be incurred for this service.
Find a toll-free telephone number service on the Internet, advises the Living By Heart website. You may incur a charge for this. Create a two-minute message that briefly describes your MLM opportunity. Make the message interesting, perhaps mentioning the success stories of others in the business. Use the toll-free number in all of your print advertising materials.
Order some phone and mailing list leads online. They should include the names, phone numbers and the addresses of people interested in starting their own business. Make sure that the addresses are printed on sticky labels so that your mailings will be easier.
Start calling your phone leads. Describe your MLM business opportunity to your prospects, then direct them to your website. Call your sponsor, the person who recruited you into the business, and ask for assistance with recruiting your prospect. Take your prospect to a conference call via three-way calling, if your MLM company uses this tool for business building.
Order some postcards from your MLM company, or create your own, highlighting key benefits of joining your business opportunity. Include your toll-free telephone message line and website on your postcard. Affix your mailing list leads to the postcards and mail them out.
Contact your prospects from your postcard mailings when they leave a message on your toll-free phone number voice mailbox. Follow up with them and have them commit to coming to a meeting for prospects.
Place an ad about your MLM opportunity in your local employment guide or newspaper, according to the Business Opportunity Advertising website. Make sure you include your toll-free phone number in the ad.
Advertise your MLM business opportunity on the Internet, using search engine optimization (SEO), advises the Smart-MLM-Business website. Search online for someone who has experience with SEO in order to help you land in the top positions on Google, Yahoo and other search engines.