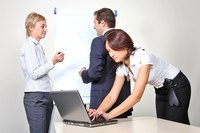 Monitoring employee activity plays an important role in improving employee performance. Employers need to monitor employees because this helps to increase job productivity. The monitoring procedure should be lawful, and the employer should convey the policies used for monitoring in the employee's contract. The monitoring technique should be designed in such a way that employees do not feel that their personal freedom is being intruded upon. A complete disclosure of the monitoring policy will help retain employee confidence. With the help of monitoring, employees receive constant feedback, and they have more chances to succeed and perform better.
Notify employees that they are being monitored. Explain that it is important to monitor their activities to help improve their performance. Honesty about the process helps build trust between employees and employers.
Keep a record of staff's phone calls and messages. This will ensure that all communication through company resources is for the betterment and prosperity of the company.
Check employees' e-mails and voice mails when there seems to be a behavioral or attitude change. Privacy Rights Clearinghouse states that employers have the right to monitor employee e-mails as and when necessary. Unnecessary checking should be avoided, though, because this will make the employees feel constant intrusion in their privacy. Use a random-sampling method to choose the e-mails that will be read instead of checking each and every communication. This will save the employer time and energy.
Use cameras to record employee activity and behavior. According to Business Link, closed-circuit television (CCTV) should be used to monitor employees; the CCTV system includes a television through which cameras are connected to monitor employee activity. These cameras should be placed where necessary, but the employer must not place them in washrooms or changing areas. Video monitoring also helps prevent theft and maintains workplace safety.
Store personal documents. Stored personal information about each employee should include complete information about housing and work permits. Information should be updated on a regular basis--at least every six months.
Examine employees' Internet-browsing activity. If necessary, restrict certain Web sites to make sure employees are not using the Internet for entertainment and socializing.
Install trackers in company cars. This will keep you aware of employee travel outside the company premises.