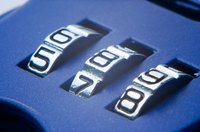 Using online services to shop, reserve hotels rooms or buy airline tickets is increasingly popular. It's fast and easy, but without proper security, identity theft is a real possibility. One way to protect against this is to get a MasterCard SecureCode. Similar to a PIN code entered when withdrawing cash from an ATM, when you purchase items online, you are prompted to enter your code. Your card issuer verifies the code then authorizes the purchase. Even if someone has your card details, without the code a transaction is declined.
Register online to get a MasterCard Securecode. It's the only way to get one and it's simple and quick. No need to get new credit cards or change accounts. Check with your card issuer to ensure that MasterCard SecureCode is available.
Select your card issuer from the list. Click on the link. Read the terms and conditions about MasterCard SecureCode. Click "I agree" or "Accept." Enter your credit card number. Verify your identity.
Create your personal MasterCard SecureCode. Use details only you would know. Make sure you are able to easily remember it, otherwise transactions will be declined. Enter a MasterCard SecureCode reminder. This can be used should you forget your code or enter it wrongly.
Click "Submit" to complete the registration process. You can now use your card for online purchases confidently.