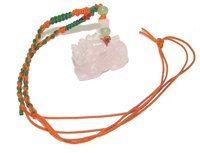 Similar to a talisman, an amulet comprises any spiritually charged item that is meant to ward off negative energy. Talismans are worn around the neck, wrists, ankles or waist and can also be carried in pouches in your pockets or handbag. Making a talisman depends on the kind of spiritual intent you have in mind for its use, but learning how to make a traditional protective talisman allows you to experiment.
Things You'll Need
Leather pouch, 3 by 3 inches
Leather cord, 12 inches
3 tbsp. assorted herbs
Amethyst
Moonstone
Lodestone
Parchment paper square, 1 by 1 inch
Purple pen
Coin
Stuff the pouch with a blend of herbs that corresponds with your intent. For example, allspice symbolizes luck and money and ginger inspires motivation and passion.
Place the amethyst, lodestone and moonstone into the pouch. These stones are basic power stones in spiritual talismans. Amethysts symbolize psychic abilities and protection and the lodestone and moonstone symbolize spirituality and magical energy.
Write a runic symbol on one side of the parchment square. Choose a rune symbol that corresponds with your intent. For example, the rune "algiz" corresponds with peace and protection.
Write a short message of power on the other side of the parchment square.
Wrap the parchment square around a coin or similar object of spiritual desire, and insert it into the pouch.
Tie the center of the leather cord around the top of the pouch, closing it shut. The pouch can now be tied around your neck and be worn beneath your clothing.