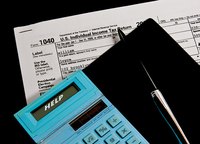 If you are taxpayer and have a business partnership, then you will be liable for income tax on that partnership, whether you see that income or not. The IRS requires that each partner fill out a 1065, which is the Return of Partnership Income, as well as a K-1 form that should be attached to each person's individual return. You will need to pick up a copy of both Form 1065 as well as the K-1 and fill them out before tax deadline.
Things You'll Need
IRS Form 1065 Schedule K-1
Write your EIN, or employee identification number, name, address, and any other pertinent information under Part 1 of your K-1. You will also include each partner's information and identify each partner's share in the company in Part II of the K-1.
Include all partners, including business entities, so that the percentages owned by all partners add up to 100% on lines J, K and L. It is also important the dollar amounts match those that will be reported on the Form 1065.
In Part III, fill in each partner's prorata share of the income, deductions and credits on lines 1-20. Make sure the total of all of the partner's prorata shares equals the total amounts on Form 1065.
Mail or electronically file your Form 1065 by the due date. Attach a copy of all partner's Schedue K-1 to the Form 1065. Provide a copy of the Schedule K-1 to all partners.
Add your personal Schedule K-1 income, deductions and credits to your own tax return before e-filing or mailing in your completed return before April 15.