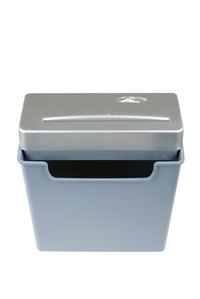 Paper shredders are an important line of defense for protecting your valuable, personal information and many people and businesses depend on them for security. Paper shredders can come in different sizes like desktop or freestanding models. Whether shopping for a machine for occasional use or to use every day, a good shredder is a worthy investment. Learn more about shredders so you can buy and use them with confidence.
Determine what type of material you will most likely be shredding. You may need to shred documents, CDs or credit cards. A strip cut shredder works best for shredding CDs.
Gauge how often you will use your shredder. Knowing how much you will shred will help you determine what type of machine is best suited for you based on the shred capacity. The shred capacity can be only a few sheets at a time or a whole stack.
Buy a strip cut shredder if you will be only be shredding household papers like notes and receipts.
Select a crosscut shredder to destroy your financial documents. Papers like bank statements and payment stubs are hard to salvage once they have pushed through a crosscut shredder. Crosscut shredders chop up the paper into small squares.
Pick a micro shredder if you plan to shred trade secret documents or exclusive business information. A micro shredder cuts the documents into very small pieces, smaller than the average shredder.
Pick the appropriate throat width. The throat width is the area that takes in the documents. If your shred load is small than the standard dimensions of 10 inches wide is sufficient. If you will be shredding larger, legal size documents, the throat width should be wider.
Pick a shredder that has either a bin or a bag container. A bin container holds the shred until you are ready to empty it. A bag container will have the bags changed periodically.