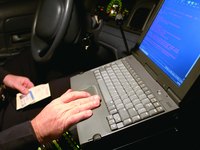 A wholesale license or seller's permit allows a person to sell or lease tangible property in California, and is required for both wholesalers and retailers. Though you can apply for this license in Los Angeles, it is issued by the state Board of Equalization. You can thus use it in any city of the state.
Get an application from a nearby State Board of Equalization office by calling (800) 400-7155 or by downloading it from the BOE website.
Fill in the application completely. (If you are filling the PDF form, you will need to print the form.) You'll need to supply your business ID information, Social Security number, name and location of your business bank account, estimated sales, personal reference and names of suppliers. In addition, you'll need a photocopy of your driver's license. Check "Temporary" if your business will operate for 90 days or less. Otherwise, check "Regular."
Sign the form and make a copy for your own records. Submit the application to a board office in person or by mail.
Post your permit, which you'll receive in about two weeks, at a visible location in your business. You must keep records of all sales, file tax returns (such as sales tax) when required and notify the BOE of any business changes. The BOE will inform you how often to file returns and when they are due. You may now buy property without paying sales tax, but only if you intend to resell it. You cannot use the permit to buy property for personal use.