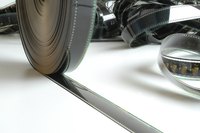 Incorporating a film company brings increased credibility to the business. Incorporated film companies become their own legal entities, shielding the film company's owners from personal liability. Corporations also enjoy better access to capital markets, allowing them to raise capital for projects and growth more easily than their private counterparts. Incorporating a film company is no different than incorporating any other business. Follow several steps to incorporate your film company in the state of your choosing.
Write a business plan for the film company. Incorporating a business requires filling out paperwork and contacting government organizations. Clearly spell out your film company's potential for growth, financial projections, screenplay philosophy, funding requirements, competition and marketing plans. A well-written business plan makes it easier to fill out the necessary government paperwork.
Select where to incorporate. Film companies may incorporate in any state; choose the location based on state taxes, proximity to company headquarters and state paperwork requirements.
Select the film company name. Each state puts forth different corporation naming requirements. Most states require a term such as Company, Incorporated or Limited within the corporation name. Also check with your state's corporate filing office for name availability.
Consult a lawyer to write the film company's articles of incorporation. Requirements differ by state, but the articles generally spell out the film company's purpose, name, correspondence information and ownership structure.
File the articles of incorporation in the state of your choosing. Submit the appropriate fees according to your state's direction.
Obtain an Employer Identification Number (EIN). Contact the Internal Revenue Service to obtain the ID number for federal tax purposes. The IRS accepts EIN applications online or via phone.