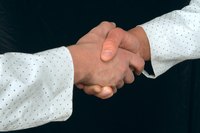 Starting an at-home medical recruiting company can be somewhat challenging, however, with proper research and commitment to detail, the recruitment business is a rapidly growing and profitable investment business. Although the business requires little capital, it can take time to get off its feet and several steps need to be taken to get started. A medical recruiter can expect to make approximately 40,000 to 53,000 per year depending on where they reside.
Research other medical recruiting businesses. Find out what is out there in your area and what kinds of services they provide and who they normally do business with. This can be achieved by simply calling medical recruiting businesses and inquiring about their services. Ask for information to be sent. This works best if you have a post office box, considering they have no idea really who you are and they are eager to give you any information they have to get you as a client.
Carefully read over all the information you obtain and plan a course of action on what kind of services you will provide and who to market them to. Most medical recruitment is offered to hospitals and large medical practices. They often are interested in finding a specific type of medical practitioner with specific talents and requirements.Medical fields looking for help include obstetrics, radiology, registered nursing, and occasionally, you will find a hospital that has a lack of family practice medical doctors.
Contact the administration department of the types of medical facilities that may need your services and inquire as to what type of medical professionals they might need. Offer your services and tell them you will get together some good prospects. Add that you don't expect to be paid unless you can substantially deliver whatever type of medical professional they need. This helps because many times the initial contact with a facility may be inquisitive and less formal, and they may be reluctant to actually give you a definite answer on whether they actually need your services.
Make a list of the requirements that each doctor or other medical personnel must have and start gathering information on where to find possible prospects. Make a smart and professional script to follow when approaching prospects. Come up with professional marketing materials to make first contact with possible prospects. Sending marketing materials seeking professionals looking to relocate to your clients' area and offering as much information as possible to induce them to contact you is a win-win situation.
Contact immediately any prospects, and pinpoint what they may require to move their practice or medical service. Most medical professionals will inquire as to annual income, relocation expenses and other benefits that may be offered. On the other side, some medical facilities that are in desperate need of a physician may offer incentive packages that include relocation allowance, sign-on bonuses and a guaranteed annual income for a certain time span. Nurses and other medical professionals will often have to sign contracts listing specific terms of service before they relocate again, especially if they get benefit packages or relocation expenses paid.
Contact the medical facility that is in need of the medical professional. This should be a more formal meeting and negotiate the professional's requirements to try to get a genuine offer from the facility for employment. Make sure the facility knows once an agreement has been signed by both parties you will also need to get a specified recruitment finder's fee. This makes sure both parties are satisfied and the agreement is signed before you are paid, so that there can be no discrepancies with payment for your services. It also shows commitment to a job well-done and professional service.
Create a professional medical employment contract for both the respective parties to sign. It is wise to consult a lawyer on making the appropriate draft contract that you can easily fill in each time, according to the specific business names, requirements and benefits. Legal contracts must be checked to assure that all parties are in agreement, and contracts must be signed and notarized by each individual.
Take care of all the necessary document distribution, along with all the necessary and timely contacts needed to seal the deal. Contracts must be signed and approved by both parties with all the appropriate time lines having been met for your services to be exquisite. Make certain that your contract with the client is also signed, dated and notarized as to delivery of the contract bound for the medical professional recruited. Once all contracts are approved, signed and properly distributed, wait for payment as spelled out in your recruitment agreement.
Stay in touch with the medical facilities once the medical professional has relocated to make sure they are pleased with your recruitment service and to inquire on future recruitment for them.