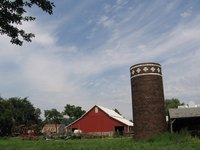 For many farmers, the incorporation question is not an easy one. The decision largely rests on specific individual and family situations. Advantages can include many tax and liability issues, while disadvantages may be the need for many directors and strict recording requirements. A lot of thought should go into the decision on whether or not to incorporate, as well as what form the business will take.
Things You'll Need
Forms from the state where you will incorporate
Incorporation fees
Decide what type of corporation you want. The basic options are: partnership or LLC,which have similar liability benefits and tax advantages, but cannot issue stock; S-corp, which sets the farmer up as an employee of the corporation as well as a shareholder, best for profitable farms; and C-corp, best for larger farms, providing some significant tax advantages. Research the details of each corporation type well before making your decision. If you decide on a corporation type instead of an LLC, you will also have to determine your first board of directors.
Decide where to file your incorporation documents. Often, a farm will incorporate in the state in which it is located, but it might be able to incorporate in a different state as well. Often this choice is Delaware, where the laws are more favorable to corporations and the costs are lower.
Download and fill out the Articles of Incorporation (for an S or C Corporation) or the Articles of Organization (for an LLC) from whichever state you plan to file in. These are usually available online from the specific state's Secretary of State office. This can be a rather involved process so make sure you fill out everything you need.
File the appropriate forms with the Secretary of State and pay the fees associated with the type of corporation you are forming.
File the approval notice you will receive from the Secretary of State which formally announces the legal status and name of your corporation. If it's an S-corp or C-corp, you will need to hold your first stockholder or board meeting where you will formally elect the board and vote on the by-laws which govern your farm corporation.