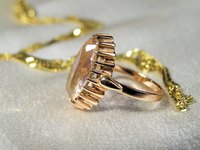 Considering the record price of gold, you may have a small fortune gathering dust in your jewelry box: old forgotten fraternity or class rings, odd earrings, broken gold chains and other old-fashioned pieces you will never use. Turning scrap gold into hard cash does not involve a furtive trip down to your local pawnshop or the risk of being fleeced. There are a number of reliable gold dealers online that make selling old gold a safe and mutually-profitable exercise.
Sort through your unwanted jewelry. If you haven't worn a piece for six or more months, consider selling it. Put any antique pieces aside for separate valuation; they may be worth more than the scrap gold value. Remove any gemstones from your rings or brooches. Don't worry about damaging the pieces; the dealer is only interested in the metal, regardless of condition.
Sort the various pieces according to their karat value (sometimes spelled carat). You may find these ranging from nine karat through 22 karat. The higher the karat value, the purer the gold.
Log into kitco.com and go to its jewelry section. Make a note of the various daily karat values.
Weigh the separate batches of karat rated pieces. You may know a gunsmith or shooting enthusiast who reloads ammunition and owns an electronic or triple-beam scale. Or perhaps your local jeweler will be kind enough to weigh the gold for you; he may even offer you a fair price for the goods while you're there.
Log into one of the well publicized dealers, such as cash4gold or Gold Fellow. Complete a form. Print out your U.P.S. or FedEx shipping label and instruction sheet. Pack your jewelry. Affix the label to the package. Call the carrier for a pick-up.
Compare the offer you receive a few days later with the current gold prices. Accept or reject the offer at your discretion.
Receive a check in your mailbox if you accept the offer, or a UPS or FedEx package containing your jewelry within days, if you decline.