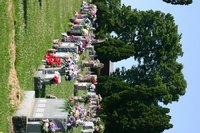 Having to raise money for a funeral can add to an already stressful situation. However, numerous resources may be available to help cover the expenses, including charitable donations and payments from government organizations. Families grieving over the death of their loved one should appoint someone--perhaps even a close family friend--to handle the legwork and research. A point person who is not overwhelmed emotionally by the loss may be able to take a more productive and businesslike approach to the fundraising and ease the burden on the family.
Cash in a life insurance policy. Check the descendant's papers and files for evidence of a valid policy. Also check with their former employer to ask about a possible policy. Have the descendant's power of attorney, if applicable, check bank records for possible payments to a life insurance plan, and then contact the company. Also search for evidence of pre-paid burial expenses.
Call social services departments in your county, city and state to ask about public funds to bury the individual. Typically, to be considered indigent, the value of the descendant's estate must be insufficient for covering the cost of the funeral, and persons legally responsible for support of the deceased must also be unable to pay.
Ask about burial assistance from Medicaid by contacting your state department of human services. Burial benefits through Medicaid may vary by the state. For example, in Colorado, up to $2,500 was available in 2010 for funeral, burial or cremation services for persons who were enrolled in Aid to the Needy Disabled, Aid to the Blind, Colorado Supplement, Old Age Pension or Medicaid.
Contact the descendant's place of worship. A church, synagogue or mosque may be willing to donate to the cost of the funeral. Also determine if the deceased was a member of civic or social organizations in the community. If so, contact those organizations to inquire about possible donations.
Find out if the person served in the armed forces. Someone who served in the Army, Air Force, Navy, Marine Corps or Coast Guard could be entitled to burial benefits from the U.S. Department of Veterans Affairs. Confirm eligibility by calling the U.S. Department of Veterans Affairs at 800-827-1000.
Contact the Social Security Administration, as it may make a payment of $255 to help with burial expenses if the deceased or family members meet eligibility requirements. Contact Social Security at 800-772-1213.
Seek donations from family and friends.