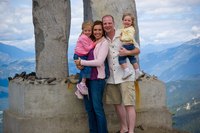 Create a non-profit charity in California by establishing detailed plans and procedures for your organization. Talk to others who have started a non-profit organization in California, learn from their mistakes and adopt any ideas that you think will benefit your organization. Think through every aspect of making a non-profit charity, and you will be better able to serve your future clients. A detailed plan also helps when it comes time to pay taxes.
Create a plan for your organization. This includes drafting and defining a mission statement and stating exactly what you want your charity to do. Keep the goals for your charity realistic and achievable. Think about who your organization will serve, how you want the public to perceive your charity, and precisely how you want your charity to carry out the goals you set. Find and recruit qualified board members to serve as leaders of your charity.

Write your Articles of Incorporation, and file them with the California Secretary of State's office. There is a $30 application fee, and an additional $15 will be charged for special handling if the documents are delivered in person. Sample Articles of Incorporation are available in the California Secretary of State's Organization of California Nonprofit, Nonstock Corporations document.

Get an Employer Identification Number from the Internal Revenue Service (IRS) for tax reporting and filing purposes by filing IRS form SS-4, available on the IRS website.

Draft bylaws, which establish how the the charity will be run and who will manage it. Your bylaws will determine who has authority, their authority's boundaries, and how they will carry out that authority. Also consider writing a Conflict of Interest Policy that will state that the board officers and members and those close to them will not benefit from the charity's activities. This helps potential future donors that your organization will handle funding money responsibly.
Hold your first board meeting. Adopt the Articles of Incorporation, elect officers and committee chairpersons, authorize filing of tax-exempt status with the IRS and with the State of California. Adopt bylaws, create a corporate bank account, adopt a form in which the board meeting minutes will be written. Some other activities of the first board meeting include adopting a fiscal year, agreeing to the payment of filing and organizing expenses, and establishing corporate records and a ledger.

Register your charity with the California Attorney General's Registry of Charitable Trusts. This office makes sure that contributions to your organization are used for charitable purposes.
File IRS form 1023 and California Franchise Tax Board form 3500 to apply for federal and state tax exemption, respectively. Being federally tax exempt means, in part, that potential contributors can give a tax deductible donation to your organization. You can find these forms on the IRS website and on the Franchise Tax Board website.

Fill out and submit the Statement of Information as required by the California Secretary of State. This is form SI-100, and you can find it on the Secretary of State's website.