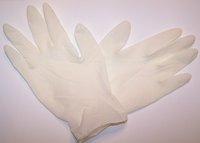 The kinky twist hairstyle can either be done using natural hair or via kinky twist extension pieces. There are a few choices when it comes to coloring your kinky twist hair, and which method you choose will depend on whether you already have natural kinky twists in your hair or are using natural-hair, kinky-twist extensions. You should begin each process by putting on old clothes and having an old towel handy for spills.
Things You'll Need
Latex or vinyl gloves
Old towel & clothes
Hair bleach (optional)
Box or boxes of hair dye
Kinky twist extensions
Coloring Before adding Natural Kinky Twist
Follow the directions on a box of dye to color your hair as normal. You do not need to add any extra steps or precautions to color your natural hair.
Blow dry your hair after it has been dyed the color of your choice.
Style your hair into kinky twists.
Coloring with Natural Kinky Twist Extensions
Color your hair using a box of dye of your choice. With natural kinky twist extensions, you must be sure to test a strand of the kinky twist, before applying the dye all over your head. Dyeing kinky twist is similar to dyeing dreadlocks, you do not want the dye to remain on the inside of the twist, and you need to make sure that the dye is rinsed from the hair, completely.
Follow the directions on the box of dye, to color the entire head, only after you have tested one kinky twist strand, rinsed the dye out completely and are happy with the color achieved.
Color the kinky twists different, bright colors to give your hair a fun and funky look.