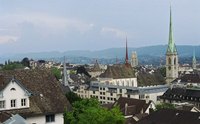 The idea is to convince private manufacturers and producers that standard procedures for company processes benefit them and consumers alike. According to the ISO, the International Organization for Standardization that develops and prints global standards, it's a goal shared by 163 countries that have adopted these standards so far. Ultimately, says the ISO, it is the consumer who benefits, since internationally accepted guidelines for manufacturing products and producing food makes corporations more conscious of their social responsibilities.
Start the procedure by referring to the ISO standard that covers it. For example, a new document management procedure should reference ISO 9001, which relates to document control.
Explain the standard's purpose and requirements. For example, state that ISO 9001 requires uniform procedures for controlling documents. Provide a numbered list of strategies for managing documents better. For example, one strategy might be that employees identify when documents need to be changed, that they record these changes on standard forms, and that the suggested changes are reviewed and approved by management.
Discuss current procedures reported by most companies. For example, ISO staff might review responses to surveys in which corporations report standard practices for document control. A corporation might consider its human resources manager's file cabinet full of loose papers to be a document control system.
Explain the benefits for improving current systems. For example, say that moving to a computer-based document control system means documents are less likely to become lost or ruined.
Give the new procedure a specific enough name so that readers can quickly understand its purpose. For example, the name "Electronic-Based Document Control System" expresses the idea that documents will now be stored electronically.
Use a separately titled subsection to explain the new procedure's significance. For example, beneath the subtitle "Importance of Electronic-Based Document Control Systems", include one or two paragraphs discussing the ISO standard's purpose. The procedure might say that "ISO 19999-1:2009 requires bio-pharmaceutical equipment manufacturers to create, store and maintain electronic versions of all paper documents."
Create another separately titled subsection to discuss fundamentals of the procedure. For example, beneath the subtitle "Fundamentals of Electronic-Based Document Control Systems", explain steps taken to establish electronic-based document systems. Write another subsection identifying specific outcomes of the new systems. For example, one outcome might be that computer-based documents are easier to send to regulatory agencies when the company files reports electronically.
Define terms used in the procedure. Provide examples after each definition. For example, define "authentic document" and then list its characteristics. The list might specify that "authentic" refers to documents that contain accurate information, were created by the designated employee and were submitted on time.
Finish the procedure with a section of references. Identify relevant sections of the company's quality control manual that relate to the procedure. Briefly explain how the new procedure supports company initiatives.