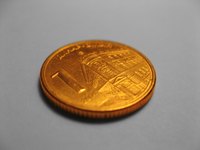 The country of Serbia employs the dinar (RSD) as its standard currency. Serbia has joined a number of European countries in its refusal to adopt the euro. Dinar coins range in value from 1 dinar to 20 dinara, while banknote denominations range from 10 to 5,000 dinara. When converting currency, make sure to consult the latest Dinar exchange rates for accurate calculations.
On Paper
Decide the amount of dinara you want to convert, and into which type of currency. For example, imagine you want to convert 1,000 RSD into euros (EUR).
Look up the latest rate in a newspaper or on a website (see Resources). Imagine the exchange rate is 1 dinar per .009546 euros.
Multiply the number of dinara by the exchange rate. You would arrive at a total of 9.55 euros (9.546 rounded up).
Coinmill Online Conversion
Navigate to the Coinmill conversion website (see Resources 1).
Enter the amount of RSD you want to convert in the "Serbian Dinar (RSD)" window.
Click "Convert." Converted totals for many different currencies will appear onscreen; locate the currency you want on the page and read the converted total in its respective menu.
Krstarica Online Conversion
Navigate to the Krstarica online conversion site (see Resources 2).
Scroll down the page. Select your input and output currencies from the menus by clicking the name of each currency.
Enter the number of dinara you want to convert in the "Amount" box.
Click "Convert." The site will automatically calculate your converted total.