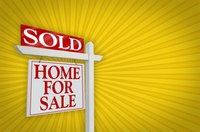 Real estate agents receive a commission on the properties they sell. If you're in the market for a real estate agent, understand that those who ask for a higher commission may be worth it. Selling property is difficult, and without a good real estate agent, yours could stay on the market for months or even years. Sometimes, paying the higher price is worth it. However, even if an agent is worth higher fees, you can still negotiate.
Do your homework. Talk with several real estate agents in your area and ask about their fees. This can give you a better idea of what the going rate is in your market. Once you know what the average rate is, you have more power to negotiate, particularly with high-priced agents.
Ask your real estate for a discount. Once you decide what you want to pay, your next step is to actually ask the agent for that amount. Some agents won't negotiate fees, but you'll never know this until you sit down with the agent and have a straightforward discussion.
Make it clear that you will walk away. Even if you've found the perfect real estate agent, you need to make it clear that you will go with someone else, and you have to mean it. The agent will most likely be able to tell if you're bluffing.
Be confident. You've researched your market and other real estate agents in your area. You know what fees are fair to pay, and you've decided what you're willing to pay. So be confident, and don't let the agent try to confuse you or talk circles around you with complicated industry jargon.