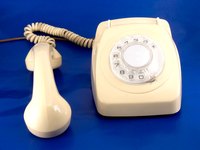 Conference calls connect two or more people to exchange audio and video discussion. Typically, business conference calls entail important decisions, brainstorming or informative meetings. As a result, keeping a record of a conference call helps solidify the communication process. Understanding the dynamics of the call is an important step. Several devices–low-tech and high-tech–offer effective audio recording. To record a conference call, you can use microphones, digital recorders and phone controllers or conference calling services.
Things You'll Need
Digital voice recorder
Telephone
Telephone recorder controller
Telephone cords
Determine how many people you are recording and where they are located. Recording one or two people speaking can be a simple affair. However, recording eight to 100 people presents a different challenge. Determining how many people are involved and where they are in relation to the recording device is the first step, according to Jake Ludington. For example, during an informative session that does not require input from callers, you can place microphones in front of the people speaking in one location to capture audio.
Commercial teleconference services often include a recording option. This can cost extra, but it will record everyone on the call at high quality. If you use a teleconference service, check with your provider for call recording options, prices and instructions.
You can also do it yourself with a phone, digital recorder and a phone-recorder controller, which you can buy from an electronics store. Phone-recorder controls and digital recorders work together to capture audio over the phone. The phone-recorder controller connects to the telephone and the digital recorder with a remote and microphone jack. When the handset is picked up, the controller automatically starts the digital recorder. Controllers cost $20 to $30. Plug the phone controller into the telephone wall jack. Plug the telephone jack into the phone controller. Plug the phone controller's remote plug into the remote jack on your digital recorder and the phone controller's microphone plug into your digital recorder's microphone jack. Lift the handset to begin recording.
Another option is to conduct the conference call over the Internet. Several online conference call providers offer free or low-cost recording options. Sign up for an online account, record your call information and review the recording instructions. Typically, either you can download the recording or the service sends an MP3 to the organizers' email address. (See Resource for a link to each service).