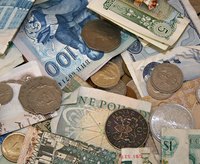 The dollar is the most widely accepted currency worldwide. In many countries, it is preferred to the local currency. However, it's wise to always get foreign currency when traveling abroad. It's needed as soon as you get to the country for taxis or public transport. Be cautious when buying foreign currency with a credit card. It's a cash transaction and treated as a cash advance, so it incurs charges from the moment it's purchased.
Locate a bank in the foreign country.
Go to the foreign exchange desk in the bank. Check the exchange rate chart displayed so that you can work out how much foreign currency you want to buy with your credit card. Ask for the type of currency you want and the amount. You will be told the cost in dollars to buy your selected currency.
Pass your credit card to be swiped. You will need to provide your passport. Sign the transaction slip. You will be given your foreign currency, receipt and rate of exchange slip. You have purchased foreign currency with a credit card.