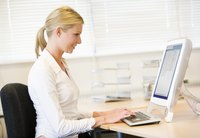 SmartSource.com is a website that offers coupons to grocery stores. In order to print the coupons, you need to be able to run the site's "Coupon Printer." You may need to allow an ActiveX control to run so you can load the Coupon Printer. An ActiveX control gives the site special access to your computer. If you are unable to install the control, it may be due to the security settings for your browser. Adjusting these settings in Internet Explorer and adding SmartSource as a trusted site should allow you to print the coupons.
Open Internet Explorer. Select "Tools," then "Options."
Select "Security" and set the security level to "Medium."
Check the boxes labeled "Run ActiveX controls and plug-ins" and "Download signed ActiveX controls."
Go to the SmartSource website, and you should be alerted about the ActiveX control. Click "Install" from the pop-up to install the control. When you visit the site in the future, the control will run automatically.