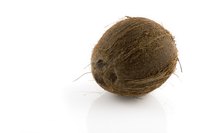 Women in the Indian subcontinent have been using coconut oil for healthy hair for hundreds of years. Coconut oil is wonderful for those who suffer from dandruff, dry or damaged hair. The oils and proteins in coconut oil allow it to penetrate the hair shaft and scalp to heal dryness from the inside out. Use virgin coconut oil as a weekly hair/scalp treatment, or if you have coarse or severely dry hair, use a small amount in the shower in addition to conditioner.
Shampoo your hair. Towel dry, leaving hair damp.
Take coconut oil and rub in hands until the oil is easily spread into your hair. Pull your fingers through your hair, concentrating on the ends and scalp. If you have a particularly dry scalp or moderate to severe dandruff, massage coconut oil into scalp.
Put on a shower cap and keep in place for 60 minutes. Remove the shower cap and then rinse. Style as normal. Your hair should feel thicker and healthy.