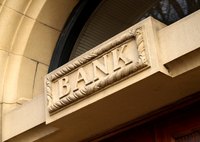 If you are planning on visiting Norway for an extended period of time, it is a good idea to open your own bank account within the country. This allows you to avoid unwanted banking fees by using your U.S.-based ATM card. Opening the account isn't far different from opening a standard account in the United States and it only takes a few forms of documentation.
Things You'll Need
Passport
Registration letter
Obtain a letter of recommendation from your current bank in the United States. You should be able to acquire this letter from your bank and receive the documentation within a few weeks. The letter states any overdraft fees and if you have been a reliable member of the bank or credit union (meaning you are not constantly over-drawing your account or obtaining fees due to breaking bank regulations).
Take the letter of recommendation, your passport and a copy of your Norwegian university registration or work identification (known as a D-number and obtained when working in the country) to a local bank in Norway. All banks require these documentations when opening up a bank account.
Request to open a bank account, then submit the documentation. Once all of the information is approved (it takes a few days) you may fill out the account information, including your name, current address, occupation (if available) and account type (no checking accounts are available). Submit the information and the deposit requirement (this varies depending on the bank you are using). Once the money is deposited, you may begin using your new Norway account.