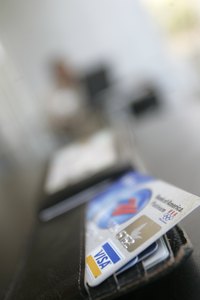 Visa does not directly offer debit cards to customers, but works with third-party issuers to provide co-branded Visa cards. These debit cards, also called check cards, withdraw money directly from your checking or savings account when you make a purchase. To add money to the card, you make deposits into the attached checking or savings account.
In-Person Deposits
Each card issuer sets its own process, but most allow you to deposit money in person at a local branch by filling out a deposit slip and giving it to the teller. Many banks also have ATM deposits, where you can deposit cash and checks through a local ATM. In either case, you swipe your card and type in your PIN to complete the transaction.
Mobile and Online Deposits
Some banks have mobile check deposit, where you can deposit a check by taking a picture of it with your smartphone or tablet. Through online banking, you can also deposit money onto your Visa debit card by transferring money from another internal account. Some banks also allow you to accept deposits from an outside account, so someone can deposit money into your account to fund your debit card.
Other Options
Visa debit card checking accounts also allow you to set up direct deposit so that your paycheck or other monthly income goes directly to your checking account. Other options for depositing money onto your debit card include mailing your deposit, or using a money transfer service like Western Union.