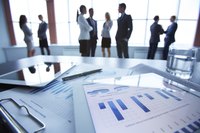 A brainstorming room should be an environment conducive to creative thinking and collective teamwork. While any room can be used for brainstorming purposes, designing one to meet specific needs can make it more effective.
Select a remote or quiet space separate from the hustle and bustle of the office. Brainstorming sessions can get boisterous and loud, and picking a secluded spot will help you avoid interruptions while also keeping you from infringing on the quiet work space of others.
Make it comfy. Brainstorming sessions can be lengthy, so comfort is important. Pick plush or padded chairs that swivel or rock and put them around a conference table so participants can see each other, make eye contact and easily interact.
Provide roaming space. Some people think better while moving, so allow enough room for participants to get up and pace as well as stretch and walk around without interrupting the flow of the work process.
Install a white board and display screen at the front of the room. This gives you the option of writing out ideas and building decision trees or using power point presentations or even teleconferencing the session. Use wall panels like cork or bulletin board materials that let you expand spaces for displaying materials.
Install a high-quality audio system so the moderator can be heard, and make hand-held microphones available if the room is large. Set up a video recording session if you want to reference the session or share it with others in the organization.
Put shades on windows. While natural light can be good for stimulating participants, bare windows can be a distraction.
Use a coffee cart server. Have a fridge or coffee and tea amenities in the room so participants don't have to leave for a refreshment break. Serve snacks to keep bodies fueled.
Install a cabinet with writing pads and pens and ensure there is adequate surface space for people to jot down ideas during the session and reference notes.