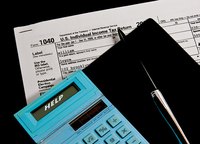 Perhaps the only good thing about losing money in the stock market is the fact that you can write off those losses against any capital gains you accumulated in the same year. This can reduce your taxable income and save you money with the IRS, helping you recoup at least some of those painful losses. But in order to take advantage of this provision of the law, you need to complete the proper forms and document each loss carefully.
Things You'll Need
Brokerage statements
Stock purchase confirmation
Pick up a copy of Form 1040 and Schedule D from your local legislative office or public library. These forms are also available for download at the IRS website, IRS.gov.
Enter the name of each short-term stock market holding you sold during the tax year on Schedule D. Short-term holdings are defined as stocks held for less than one year. Enter the original purchase price of the stock, the sale proceeds and the amount of any capital gain or loss. Add the amount on each line to get a total of your short-term gains and losses.
Go to the long-term capital gain section of Schedule D. Enter each stock you sold on a separate line. Include the amount you paid for the stock, the sale proceeds and the capital gain or loss. Add the lines together to arrive at your total long-term capital loss.
Calculate the total amount of capital losses for the year. Enter the total amount of losses, or $3,000, whichever is less, on line 13 of the 1040 form. The limit is $1,500 for married individuals filing separately.