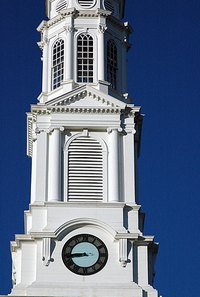 Starting a business requires a good bit of initial paperwork, and a business license or occupational license is essential for almost every business in Maryland. You must first determine which license you need, then be sure you have the prerequisites for a Maryland business license. The prerequisites are an Employer Identification Number (EIN), a corporate or individual ID number, registration forms for business tax and unemployment accounts and a policy binder number or certificate of compliance, if your business has employees. Do not attempt to obtain a business license without first meeting these requirements.
Determine if you actually need a business license, referred to as a trader's license by the state of Maryland. Service-oriented businesses, such as hair salons and architecture firms, which do not sell products, are not required to have a trader's license. These businesses need only an occupational license relating to the service provided. Maryland's Department of Occupational Licensing oversees all service-oriented licenses. However, a service-oriented business which also sells product, such as a hair salon that sells hair products or an architecture firm that sells design software, needs both an occupational license and a business license.
Get an Employer Identification Number from the Internal Revenue Service by contacting your local IRS office, downloading, completing, and returning Form SS-4, or by applying online.
Get a corporate or individual ID number from the Maryland State Department of Assessments and Taxation. If your business is unincorporated and will operate as a sole proprietorship or general partnership, download the "Application for an Unincorporated ID" from the website, fill it out and return it. If your business is incorporated, call the Department to determine what information and forms you need, as they vary for different types of corporations.
Department of Assessments and Taxation 301 W. Preston Street Baltimore, Maryland 21201 410-767-1184 dat.state.md.us/
Get your business registered for the appropriate tax and unemployment accounts with the Maryland Department of the Comptroller. Most businesses will require a sales and use tax license as well as an income tax withholding account. If your business will have employees, you will also need an unemployment insurance account. All three can be applied for online at the comptroller's website. If your business requires additional licensing (in order to sell alcohol, tobacco, or motor fuel), you will need to download any appropriate form, fill it out and return it to the your local branch of the comptroller's office. You must have your Federal Employer Identification Number to register with the Maryland Department of the Comptroller.
Contact the Workers' Compensation Commission of Maryland to apply for a certificate of compliance or contact your insurer for your policy binder number. If your business will not have employees, this is not required. If it will, you must have workers' compensation insurance from an insurer licensed in the state of Maryland.
Maryland Workers' Compensation Commission 10 East Baltimore Street Baltimore, MD 21202-1641 410-864-5297 wcc.state.md.us/
Register for your business license with the Maryland Judiciary. Online registration is available, but not for all the counties. Take the quick questionnaire on the Judiciary website to determine if you can register online. If you are not qualified to register online, take your required information to your local Circuit Court. You will need to fill out a form, show your required documents, and pay a fee.