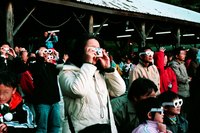 If you know someone living in United States while you are in the Taiwan, it is possible to call the U.S. resident through your home or cell phone, although you are going to be hit with a large international fee, especially when using your cell phone. Calling the United States from outside of the country requires you to dial an additional set of numbers before dialing the actual phone number of the person you're trying to reach.
Pick up your phone and dial the Taiwan exit code, which is "002."
Press "1." This is the U.S. country code.
Dial the three-digit area code of the individual you are calling.
Dial in the remanding seven numbers. In a moment, your call is connected with the individual in the U.S. you are calling.