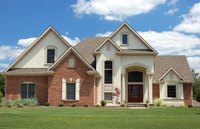 The Internal Revenue Service permits the home mortgage interest tax deduction for homeowners who finance their home with a mortgage. To qualify for the deduction, you must be legally liable for the loan, the loan must be secured by your home and you must make the payments on the loan. However, the IRS limits the amount of the mortgage that your deduction is based upon.
Things You'll Need
Find the amount of mortgage interest you paid during the year by looking at the Form 1098 your lender sends you at the end of the year. The interest paid can be found in box 1 on form 1098.
Consult your financial records or contact your lender to determine the average balance of your mortgage for the year to determine whether the mortgage falls below the annual limit, which is $1 million, unless you are married filing separately, in which case the limit equals $500,000. If the balance equals less than the annual limit, your deduction equals the amount of interest paid during the year. If the balance is above the limit, continue to the next step.
Divide your average mortgage balance for the year by the mortgage limit for your filing status. For example, if you are married filing jointly and have a $2 million dollar mortgage, you would divide $2 million by $1 million to get 2.
Divide the interest you paid by the result from step 3 to calculate the amount of mortgage interest you can deduct. Finishing the example, if you paid $180,000 in interest, you would divide $180,000 by 2 to find you would be able to deduct $90,000.