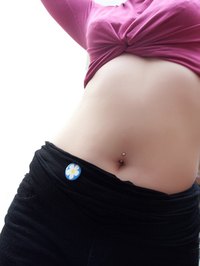 Piercing scars can be a reminder of youthful indiscretion or sometimes a piercing can become infected and must be removed. It is imperative to prevent causing an infection that will likely scar by following your piercer's directions. Oftentimes, this will include not touching the pierced area with dirty hands. When a scar does occur, take steps to get rid of the scaring as soon as possible to achieve a higher success rate than an old scar.
Things You'll Need
Moisturizer
Antibacterial soap
Vitamin E
Chemical peel
Vitamin C
Zinc
Beta-caratene
Sunscreen
Examine the piercing hole for signs of an infection. Infected piercings can bleed, swell, exude puss or have reddening around the piercing hole. If you think you have an infection, go to your doctor or nearest medical facility. Prolonging medical infection can cause severe problems that may lead to death.
Message the scar if it has produced a keloid scar twice a day in the morning and before bed with clean hands. A keloid scar is a build up of scar tissue that is usually off color from the rest of your skin. Use antibacterial soap to wash your hands.To help you message, dab a small amount of moisturizer on your fingers and move over the keloid in a circular fashion.
Apply vitamin E to the scar and surrounding area. Vitamin E aids in healing skin tissue. While at home, break open a capsule and apply on the front and back of the scared area.
Apply an over the counter chemical peel from your local pharmacy. Over the counter chemical peels contain salicylic or glycolic acid, which exfoliates or takes off dead layers of skin that may be making the scar more prominent. Generally, organic versions of chemical peels contain citrus acids that dissolve the top layer of dead skin. You can find chemical peels in the skin care aisle. Follow the direction on the chemical peel box. Leaving chemical peels on your face for prolonged periods of time can cause a chemical burn that may result in scaring. Repeat the chemical peel after six weeks or according to how often the chemical peel box suggests.
Moisturize your scar with a moisturizer that contains silicone. Silicone is a lubricant that is prized for its inability to attract dirt. Apply moisturizer in the morning and at night. If you are sweating or working outside, rub moisturizer once during the day.
Take 500 mg of vitamin C, 15 mg of zinc and up to 2,000 mg of beta-caratene to help the body heal the scar. Keep of the regimen for several weeks, but ask your doctor if you take any prescription drugs.