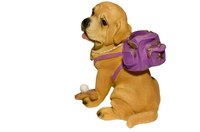 Starting a dog kennel business at home takes more preparation than other pet businesses. Check with your town and see what zoning laws apply and if you will need a license. Space is a basic requirement and must be secure as well as safe and comfortable. Supplies will include washable bedding, food and water with serving dishes and separated dog pens.. Records must be kept on each dog with medical information including vet contact. Feeding and exercise schedule must be included in records and an insurance program with adequate insurance for the business. Consider adding a daytime pet sitting service and an on going marketing plan.
Things You'll Need
Kennel license (if required) and zoning approval
Large space (barn or building)
10 (or more) kennel crates or secured dog pens
Food (include treats)
Water
Bedding
Cleaning supplies (disinfect soap, shampoos)
Hair cutters and trimmers
Hair grooming supplies
Bathing areas (2)
Waste disposal containers (hauler contract)
Nail cutters
Computer (record and schedules)
Fliers and/or Newsletter Postage
Kennel logo on scarves for males and hair bows for females (marketing)
Build your dog kennel. Your home offers a lot of freedom that a franchised kennel would not have. The size and your rate of growth and how you run the dog operation are under your control. Pick a workable space maybe a barn or garage and plan to renovate it so your customers will be attracted to the area. It should be easily cleanable and cages can be hand made or purchased in steel or high grade plastic. Start with a dozen and see what volume of business you get to support them. Check with the local authorities regarding zoning regulations and licensing requirements. The kennel area should be well lighted, temperature controlled, ventilated and insulated from the weather. Kennels should be individually locked and not touch each other to avoid dogs contacting. A run should be established with direct access from the cages so the dogs can be let out several times per day. Run area should be secured with high enough fence to avoid climbing and three feet of fence underground to prevent digging. This eliminates escapes and intrusions from other dogs especially when females are in heat.
Add kennel supplies. Removable pans in cages allow for quick clean up. Use washable soft pads and dog beds for sleep and rest periods. Each kennel should have two large unbreakable bowls. One for water and the other for food and snacks. Encourage the owners to bring along the dogs favorite treats as well as any medicines taken.
Daily pet sitting is an excellent way to attract customers and improve new business cash flow.This is an option but it should be high on your list because your objective is to keep your cages filled all the time whether overnight or during the day.
Also grooming and bathing are adjuncts to the kennel. Pampering a person's favorite pooch is almost irresistible. This like pet setting is an option. Installing the shower, bathing, and drying areas can be done with the building of the kennel itself. The work can be performed by a professional groomer working for or through your kennel.
A professional vet should be available for on site emergencies. You can sell non prescription products which are available over-the-counter. Add a line of doggy toys, treats, and products. People like to reward their dog for their stay at your kennel.
Obtain an insurance policy to cover your business and family and/or employees. Get a computer to support your customer and mailing list(s). The computer can keep records on each dog and its feeding and exercise schedule. Use it to create fliers and a monthly newsletter with a few free treats for dog and master.
Make up a marketing plan to help start the business. Maybe an open house with free doggy ice cream. Or using that old van now advertising "Pooch pick up" or "Have dog - Will travel".