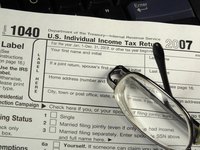 An IRA, short for individual retirement account, assists people in saving for retirement by providing tax incentives. However, the Internal Revenue Service restricts how much each person can contribute. If you contribute too much money, you must pay a 6 percent tax penalty on the money if you fail to withdraw it before your income tax due date. When you take the withdrawal to correct your contributions, you must also withdraw any earnings on the excess contribution.
Calculate the excess amount of your contribution by subtracting your contribution limit from your contribution amount. For example, if your contribution limit equals $5,000 and you contributed $6,000, you would subtract $5,000 from $6,000 to find your excess contribution to be $1,000.
Contact your financial institution to find out how much interest or other earnings your excess contribution generated while it remained in your IRA.
Add the amount of your excess contribution to the amount of earnings generated by the excess contribution to calculate the total amount you must withdraw. For example, if you had a $1,000 excess contribution and $50 in earnings on it, you would add $1,000 to $50 to find that you would have to withdraw $1,050 from the account.
Request a distribution from your IRA for the amount from step 4 before your tax filing deadline to avoid a penalty. Your financial institution will provide you with the withdrawal request form.
Report the withdrawal of earnings from your IRA as a taxable IRA withdrawal on your income taxes. You will also have to pay a 10 percent early withdrawal penalty on the withdrawal. In this example, you would have to report $50 as taxable income and report a $5 penalty.