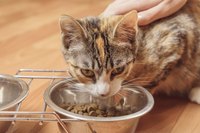 Your cat can become severely underweight as a result of neglect or illness. While you understandably want your cat to regain weight and return to normal as quickly as possible, you have to use caution when you are trying to help a severely underweight feline put on pounds. You can make your cat sick if you feed him too much too quickly.
Get a Clean Bill of Health
Your veterinarian can help you get your cat back to a normal weight. Before you change any part of your cat's diet, you need to take your cat to the veterinarian for a full checkup. This is especially true if your cat has been ill, which caused weight loss. Your veterinarian needs to treat all underlying medical causes for your cat's weight loss before you can attempt to help him gain weight. Once you are sure your cat is skinny but healthy, you and your veterinarian will need to work together to determine what your cat needs to eat to become healthy again.
Your Cat's Diet
For your cat to gain weight, he will need to consume more calories than his body requires to maintain its current undernourished state. The UC Davis Koret Shelter Medicine Program estimates that the average 8- to 10-pound healthy adult cat needs between 180 and 220 calories per day. It is recommended that you give your cat 25 percent more calories than he needs to maintain his weight to help him gain weight. Your veterinarian will be able to help you calculate the number of calories your specific cat needs and tell you exactly how many calories you should be feeding your cat to promote healthy weight gain.
Changes in Diet
When a cat is severely underweight, he most likely either hasn't been eating or has been eating the wrong diet. If you introduce a significant amount of healthy, good quality food into his diet too abruptly, you can cause dangerous electrolyte imbalances. According to the UC Davis Koret Shelter Medicine Program, problems you should look for when reintroducing your cat to healthy food include muscle weakness, seizures, coma, anemia, irritability, aggression and cardiac dysfunction. If these symptoms occur, contact your veterinarian immediately.
Feeding Your Cat
You should feed your cat multiple small meals per day, splitting his caloric intake into several meals and gradually working up to larger amounts. Feed your underweight cat alone and away from other animals. You need to know how much food your cat is consuming. It will be difficult for you to monitor his calorie intake if you have multiple cats eating from the same dish.