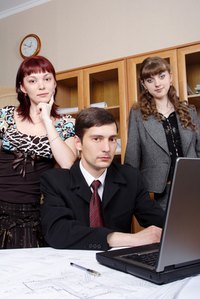 Conflict is a natural and normal part of the workplace environment, and working successfully on any team depends on being open and creative with your team members while displaying a you-attitude toward disagreements. Kitty Locker, author of "Business Administrative Communication," defines you-attitude as looking at things from the audience's point view, being respectful and protecting the audience's ego. Whether your conflict is with staff, management or co-workers setting guidelines for yourself on how to handle conflict will allow you to handle workplace disagreements constructively.
Instructions
Acknowledge the conflict. Unacknowledged conflicts within a team rarely go away: they fester just below the surface, causing distrust and making workplace productivity impossible.
Make sure that the people involved actually disagree. Often high stress, different conversation styles and differing interpretations of data can create conflicts where no real disagreement exists. In such cases, it is paramount to check to see if everyone's information is correct.
Avoid critical responses toward team members. When we are criticized, our natural response is to defend ourselves – often by counterattacking and escalating the conflict. Constructive ways to respond to criticism and get closer to the real issues include buying time with limited agreements, checking information, displaying you-attitude and compromising.
Search for alternatives or compromises. Sometimes people get locked into conflict because they see no other way to proceed. When a decision is significant for the project, the team needs a formal process to search for alternatives before agreeing on a decision. Brainstorming is one example a team may use to generate alternatives or compromises
Repair negative feelings. Conflict can emerge without emotionally escalating the disagreement toward anger, but if co-worker's feelings have been hurt, the team must deal with those feelings before moving on to a new project. Only when all members of the team feel respected and valued can the members move on to trusting others on the team.
Move past the conflict. Disagreements within the workplace are inevitable. We cannot avoid them, nor can we always solve them, but we can move toward using arising conflicts as a tool to build stronger communication skills and rapport within your team.