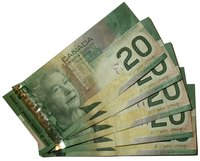 One of the most important things travelers need to do when they go to a foreign country is convert their money into the foreign country's currency. When traveling from Canada to the United States, you will convert the Canadian dollar to the U.S. dollar. Exchanging currency is not difficult, but it's a good idea to know in advance what the exchange rates are. A Canadian dollar may be worth more or less than a U.S. dollar, depending on when you exchange it.
Look up the current exchange rate between the Canadian dollar (CAD) and the U.S. dollar (USD). The easiest way to do this is to visit an online currency conversion calculator. The daily exchange rate is also published in newspapers.
Go to a currency exchange desk at an airport, major bank office or hotel.
Present your passport to the clerk at the currency exchange desk and tell him how much money you want to convert. You can do this by presenting him with traveler's checks, Canadian money or by providing a credit card or debit card.
Take the U.S. dollars from the exchange clerk and count it to make sure that it is the correct amount of money.
Sign the form that the clerk gives you and wait for a receipt.