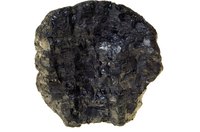 Converting coal to oil could free the U.S. of foreign oil dependence, but the costs to the environment could be dire. That's why President Obama called for the passage of legislation to drive the production of renewable energy with renewable energy technologies in February, 2009. Conversion of coal into oil is very timely: nearly 20 million Google hits attest to that, and the U.S. has the largest amount of coal reserves in the world. The problem at present is pollution, since more than twice the carbon dioxide is produced with coal conversion than with present oil-producing technology.
Things You'll Need
coal processing technologies
Superheat tons of coal to more than 2,000 degrees Fahrenheit.
Add steam and oxygen, and increase the pressure in a gasification reactor. These are classified by: the type of reaction bed (fixed, entrained, or fluidized), the operating pressure (pressurized or atmospheric), the method of ash removal (as molten slag or dry ash), and the number of stages in the gasifier (1 or 2).
Push the coal through a series of chemical reactions. This results in crushing and separating the coal into valuable substances or waste by any of a variety of techniques: particulate removal, tar and oil removal, gas quenching and cooling, and acid gas removal.
Convert 120,000 metric tons of coal into 160,000 barrels of oil a day.