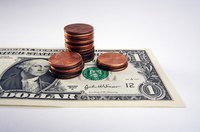 Mutual fund yield measures how much money investors were paid in dividends as a portion of their total investment, which can help investors who are looking for a steady stream of income from an investment. However, be careful when using only yield to measure the performance of the mutual fund. The yield only takes into account how much money was paid out to investors, not how much the value of the investment increased or decreased. Mutual fund yields are typically expressed as a percentage of your investment.
Determine the period you want to calculate the yield for the mutual fund. For example, you may want to calculate the yield for the mutual fund over the past year.
Check your financial records to find the dividend payments of the mutual fund during the specified time period. For this example, you would check to see how much the mutual fund paid out in dividends in the last 12 months.
Divide the dividends paid by the amount invested to calculate the yield of the mutual fund expressed as a decimal. For example, if you paid $1,000 for your investment in the mutual fund and the mutual fund paid $80 in dividends, you would divide $80 by $1,000 to get 0.08.
Multiply the mutual fund yield expressed as a decimal by 100 to convert it to a percentage. In this example, you would multiply 0.08 by 100 to find the yield of the mutual fund to be 8 percent.