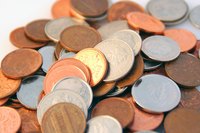 While gold tends to get most of the attention, other precious metals like silver and platinum can be sound investments as well. Whether your goal is to put in a hedge against future inflation or just diversify your portfolio, a silver ETF is an excellent choice. An ETF is similar to a mutual fund, but unlike a mutual fund, an ETF can be bought and sold throughout the trading day, just like a stock. This makes an ETF the perfect vehicle for volatile commodities and metals.
Things You'll Need
Open a brokerage account if you do not already have one. An online broker is the most cost-effective choice--online discount brokers allow you to purchase and sell the silver ETF for commissions as low as $7 per trade. Scottrade, E*Trade and TD Ameritrade are three of the biggest players, but there are others as well.
Submit the application needed to establish your brokerage account. Most online brokers make these forms available on their websites, and some also allow new investors to transfer funds directly from their bank accounts. If you cannot fund your account electronically, write a check and send it to the address listed on the brokerage application.
Log on to your brokerage account and go to the trading menu. Check the cash in your account to make sure your funds have settled. Enter the ticker symbol for the silver ETF. The largest and most widely used silver ETF trades under ticker symbol "SLV".
Enter the number of shares you wish to purchase, then click "Verify" to confirm your information. Make sure there is enough money in the cash account at the brokerage to cover the cost of the trade and commission.
Check the daily price of the silver ETF using a site like Yahoo! Finance or CNN Money. Set a price in your head for selling your silver ETF and locking in your profit.