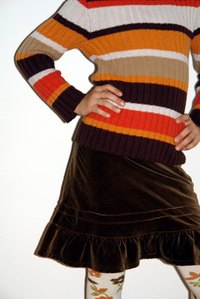 You've already done the hardest part: launched your idea, wrote a business plan, figured out where to get start-up cash and unraveled the mystery of marketing strategies so you could open your doors and keep business coming in. Time has passed. You're no longer the new kid on the block. Take that amazing preparation you've already undertaken and firm up a direction for your clothes distribution business. Keeping it fresh while staying on track is the secret to keeping your enthusiasm and business moving forward.
Follow the business plan you wrote when you started your clothing distribution business. Continue to make good on your financial and marketing obligations to maintain the healthy financial standing required by lending institutions should you require a business loan or line of credit for expansion or diversification.
Maintain your licenses, permits, tax resale number and other legal credentials to avoid lapsing or losing the right to operate your facilities or do business with wholesalers and manufacturers. Continue to develop contacts with folks at your closest market center—New York, Dallas, Los Angeles, Chicago, etc.—to maintain access to manufacturers' showrooms and establish relationships with new ones.
Assess your warehouse/business center. Make certain it's serving your current needs. Re-organize the place if things are so cluttered you feel you need to move. Instead, think about the financial and time ramifications involved with relocating your distributorship. It's okay to check out industrial properties from time to time to keep tabs on the market but make sure your next move is undertaken because you've outgrown your current facility for real.
Nurture accounts with existing clients, particularly clothing manufacturers with whom you've a long, satisfying relationship and whose dating terms, minimum buy requirements, credit limits, return policies and shipping policies are equitable and reliable. Solicit new manufacturers only if taking on more business won't interfere with your existing accounts and your ability to service them.
Continue to place clothing orders well in advance of the upcoming seasons to earn and maintain the trust of the retailers and wholesalers with whom you deal. Stay on top of trends and make sure full-time or part-time staff you've hired does the same. Continually negotiate for better terms from manufacturers as your relationship matures and trust builds.
Network with other clothing distributors by joining a trade group like the National Association of Wholesale Distributors, if you have no other affiliation. Nurture your sales staff. Encourage them to learn more about the clothing industry by undertaking workshops and seminars. Join them. It's an ever-changing business climate and those who don't stay on top of clothing trends rarely survive.