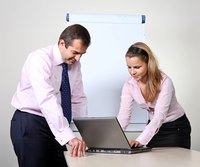 If you are interested in starting a small business, there is encouraging news. There are several federal government grants available to existing small business owners and to those looking to start a small business. These are grants, not loans, so they cost nothing and do not need to be repaid. There is a simple, straightforward process for applying for these grants.
Figure out why the federal government should give you a grant. Answer these questions: How will my business help the community? WIll it provide a unique service? Will it create jobs? Will it help the environment? Will it help revitalize an economically depressed area? Answering these questions will give you a better idea of why the federal government should issue you a grant.
Find out what grants are available. There are many different websites that list federal grants for small business, most of which can be found using a web search. For example, the website Business.gov lists available federal small business grants and how to apply for them. You also can download an application package from Business.gov.
Write a grant proposal. Grant proposals are detailed narratives that explain who you are, what your prospective business will do, how your business will benefit the community, and how you will use the funds. You can find many sample grant proposals online. You also will need to download the grant application package(s) from Business.gov, if applicable.
If you do not have any proposal writing experience, it may be to your advantage to hire a professional business grant writer. These writers are experienced in proposal writing and should be able to write a high-quality proposal. Professional grant writers charge an average of $60 per hour; however, if hiring one ultimately lands you a $10,000 small business grant, the investment in his or her professional services and grant-writing experience will have been well worth your while!
Put the grant money to its best possible use. Should you obtain the grant money, decide the best way to use it to build your new business. Ideally, you should use the money for the purposes that you outlined in your grant proposal. For instance, if you said that you needed the money to buy a downtown storefront building, then buy the building. If you stated that you would use the grant money for general start-up expenses such as purchasing products, hiring employees, drawing up contracts and covering overhead, then use it for that.