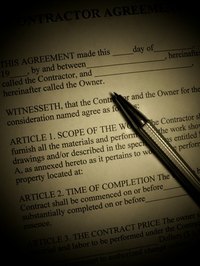 If you are a low-income consumer struggling with bills and household expenses, you may be able to qualify for a low-income loan. While these loans are not typically considered "conventional" loans, you still can find financing that is financially beneficial. Before filling out applications, though, you must do ample research and carefully consider how much you can afford to spend on a loan payment. Finding lenders, however, is a rather simple process.
Things You'll Need
Income documents (W-2s, pay stubs)
VOE (Verification of Employment)
Pull a copy of your credit report from Annual Credit Report. This is a federally mandated website that offers free credit reports to all consumers who request one. You should also pay for a copy of your FICO score--a three-digit number between 300 and 850 that represents your overall creditworthiness.
Calculate your income ratios. The two ratios used by lenders are the debt-to-income ratio (DIR) and the disposable income (DI) ratio. To calculate your DIR, divide the sum of all monthly expenses (excluding non-credit-reportable expenses) by your gross monthly income. Most low-income lenders want to see a DIR below 52 percent.
Subtract all monthly expenses (excluding non-credit-reportable expenses) from your net monthly income to find your disposable income (DI). Low-income lenders want to make sure you can afford food, clothing and miscellaneous expenses after paying all bills. Most low-income lenders want to see a DI above $300.
Research lenders based on your FICO score. If you have excellent credit (a FICO above 720) but low income, you still could qualify for a loan through a local bank or credit union. However, if your FICO is below 720, you should look instead at finance companies. These institutions cater to non-traditional borrowers. Wells Fargo Financial and CitiFinancial are examples of finance companies.
Apply to three or four lenders. Excessive applications will generate excessive inquiries on your credit report, which could in turn reduce your FICO score. Provide all lenders with full income documentation.
Ask prospective lenders about their stated income programs. These programs allow you to include income without verifying the source with documentation. This can be tip income, under-the-table income or childcare income. Include only income you are receiving regularly. This income will help both your DIR and DI ratios.
Review all loan offers side-by-side. Recalculate your DIR and DI with a new loan payment. Consider consolidating outstanding bills into a new loan to reduce monthly payments. Do not accept any loan that will put you into a more precarious financial situation.