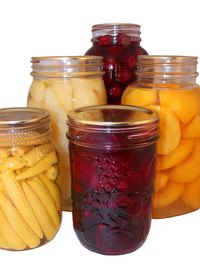 If you are a gardener with large gardens or live in an area of the country surrounded by farms, then start your own home-based canning business. Before turning a profit there are some steps you must fulfill before going into business.
Solidify your recipe when beginning a home-based canning business. Convert your recipe's ingredients to weights versus teaspoons and tablespoons, using a gram scale to help. Write down exact temperatures at which your recipes will cook. This information helps the Food Processing Authority who will determine whether your canning process is safe. The added benefit is that you will develop a consistency for your product, which your customers will value.
Send your food to the Food Processing Authority who will test your food for not only flavor but water content that could support bacteria, the level of pH in the food, especially if it's pickled, the acidity levels in vinegar, the percentage of salt in smoked fish and determine the concentration of sugar present in syrups, jelly or jams. Package the canned food in the same kinds of containers in which you'll be selling your canned food.
Apply for a commercial for processing license. Because you are producing what is considered low-acid food with your canning business (unless you are making pickled food), which will have a pH that is more than 4.6 as well as a water activity more than .85, you will need to apply for a commercial processing license. This will require your kitchen to be inspected, as well as the water and sewer systems. This may require a renovation of your kitchen to install easy-to-clean floors, double sinks, screens and doors to keep out animals, and clean appliances and equipment.
Acquire a Better Process Control School certification with the FDA, as required by law. Courses for this certification are often offered through the Cooperative Extension in your state as well as through other organizations like the Maine Organic Farmers and Growers Association.
Create labels that list the name of the food, the weight of your canned food (include this in grams as well as ounces), a list of the ingredients beginning with the most or heaviest by weight, the potential for allergies (if processed with peanuts, for example), your name and address and company name if you have one.
Provide a nutritional label when you sell more than $500,000 in gross sales per year. When you are just beginning, you don't have to worry about this step yet.
Hire a certified lab if you intend on making claims about your food. By doing this, you can have the lab back up your claims with their tests--if it proves true. A certified lab can also provide the necessary information for the nutritional label.
Set up a marketing plan. You can start small by going to farmer's markets and build up a clientele, or approach restaurants or schools in your area.