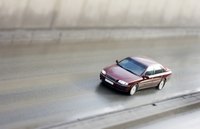 Starting a car dealership offers the potential for a profitable career. According to the Bureau of Labor Statistics (BLS), the industry offers higher earnings than other retail industries. The BLS also states that since 2008 used-car dealerships have seen a rise in profitability. There are several requirements to get a car dealership license in Maryland.
Select a name for your business. Conduct a name availability search to see if the name you want for your business is available. You can do a name search at the Maryland Department of Assessments and Taxation (DAT) website.
Establish a business in Maryland. Once you have confirmed that the name you want is available you need to form either an LLC (limited liability company) or a corporation. The forms are available at the DAT website. The website also provides a resource section to guide you through the process.
Determine which type of dealership license you want, i.e., new or used cars. Each requires you to complete a similar set of forms; filling out the wrong set will either slow the approval process or cause a rejection. The MVA website has information on the types of licenses available. You can also order the required forms there.
Apply to the local zoning board for the right to establish a car dealership. Either city hall or the county seat will have information available on zoning regulations. Proof of zoning is required to obtain a dealership license.
Complete the zoning forms. Improperly filed forms will cause delays or rejections in the application process. If you have business partners they also must sign the forms.
Post a surety bond. You can either post the required sum or buy surety bond insurance through an insurance company. Information about surety bonds is available at the MVA website.