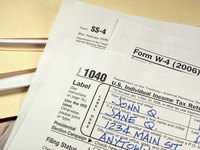 Most of the time, you will receive your federal or state tax forms in the mail automatically. Occasionally, however, there is a problem receiving your forms or you may have moved and you do not have the forms that you need in order to file your taxes. The IRS has made it relatively simple to obtain additional copies of tax forms if you need them. You can access these forms electronically or have extra copies mailed to you. You can also visit local businesses or IRS offices in order to obtain the forms.
Download the forms you require from the IRS website. The IRS has links available for all of the federal forms as well as links for state forms. You will need a PDF reader installed on your computer in order to view and print the forms.
Call the IRS if you do not have access to a computer. The agency will mail the necessary forms directly to you. You can call your state's Department of Revenue in order to get state forms if you need those as well.
Visit local IRS partners in your community. Almost every library has IRS and state tax forms available for the public. Also contact copy centers or office-supply stores locally as they generally keep copies of tax forms available for the public to copy and use. Other agencies and companies such as banks, credit unions and local government offices may have copies of tax forms available as well. Call around first to make sure the forms are available.
Visit your local Taxpayer Assistance Center. You can obtain forms for federal and state taxes at these local offices as well as ask any questions you may have.