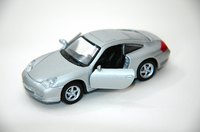 Getting rich by selling advertising space on your vehicle is highly improbable. However, you may be able to cover a portion of your fuel expenses by allowing a company to place a magnetic sticker on your car. There are many different transit advertising agencies that connect companies with consumers willing to sell ad space on their cars. Avoid settling on the first agency you find; read their terms and conditions, then compare it to other agencies.
Select a transit advertising agency. You may be able to locate a local agency, or you may opt for an agency that does business nationwide. Peruse terms and contracts from several different agencies before deciding on the one that suits you. Some examples of agencies include MyCarMyCar.com, The Free Car, PayMeToDrive.com, PaidRide and Ad My Ride.
Sign up for an account with your selected advertising agency by informing them about your car and driving habits. For example, some agencies may not want to use your car if you have been convicted of a DWI. Agencies also consider the make, model and general condition of your car. Provide an estimate of how many miles you drive each month, as well as your usual routes. For example, some companies may prefer to advertise on a car that is parked on a busy street each day.
State your advertisement preferences. The company should offer you advertising options. For example, specify whether you prefer a small ad or a whole-car wrap. Some companies also allow you to screen by type of advertising. For example, you may specify that you will only allow family-friendly ads on your car, which should exclude ads for nightclubs and similar establishments.
Read the terms and conditions carefully before completing your application or signing a contract. Some agencies may require that you drive a certain route or a certain number of miles each week or month. Ensure that you can faithfully complete the terms of the contract before you finalize it.
Follow the agency's directions for placing the advertising on your car. If you selected a local agency, they will likely ask you to bring the car to them for ad placement. Non-local companies are more likely to mail you the advertisement, instruct you in its placement and ask you to take a photo to send to them. This proves that you have placed the ad correctly.