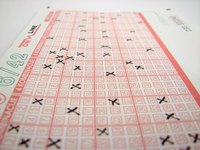 By adding the lottery to your company, your business will increase enormously. As a retailer you will add a new revenue stream and an opportunity to cross-sell other products. You will also be supporting a good cause because lotteries typically help fund various projects throughout the state.
To become a lottery retailer, most states require that businesses be in operation for at least six months. Supply appropriate licenses and documentation that your business is financially stable and functioning. Complete an application at your state lottery office to begin the process to become a lottery retailer. Contact information can be found online at your state lottery's official website.
Pass a criminal background check on employees and yourself. An indication of a past violation can result in a denial of your application. Every employee hired thereafter will be required to meet state requirements to operate lottery machines. A financial investigation is also required to make sure no issues of theft, money laundering and racketeering exist. A separate bank account will need to be set up to pay lottery fees.
Confirm delivery of the lottery machines. Attend a lottery training seminar. These will teach you how to operate machines and transactions. Continuing education will also be required when new lottery games are introduced to the market. Train your employees to balance the demand of store and lottery products simultaneously. Market your new business by posting lottery paraphernalia around your place of business.