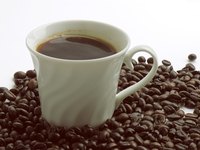 Becoming a coffee distributor requires a knowledge of the product, wholesale connections and a customer base. Coffee is a highly traded commodity all over the world. A coffee distributor needs to understand the various regions of production and available varieties. This educational background and the ability to supply high quality beans make the coffee distributor an important resource to many coffee retailers. Follow your passion for a well brewed cup of coffee by becoming a wholesale distributor.
Things You'll Need
Plastic zip-top freezer bags
Permanent marker
Research coffee growing and production to understand every step in the process from the soil to the cup. Coffee, like wine, has a wide range of flavor profiles and characteristics. A coffee distributor needs to understand which coffee beans are the most desirable and why they are so sought after.
Contact coffee bean wholesalers to gather information about their distributor programs. Find a wholesaler that is offering quality coffee beans at reasonable prices. Look for policies on minimum order sizes and postage costs to figure a total cost per pound for each wholesale company.
Talk with coffee retailers and business owners in your area about their current coffee suppliers and costs. Let them know you are trying to save them money and get them better coffee at the same time. Be ready to rattle off a few available varieties and their characteristics to prove that you know what you are talking about.
Place an order with the coffee bean wholesaler you have chosen and contact the coffee retailers that showed interest in your beans. Dropping off half pound sample bags allows the business owner to try the coffee and make a decision as to how much they want to order. Write the name of the coffee, your name and contact information on the outside of each sample bag.
Stay in contact with current clients and their needs as you continue to search for new retail outlets that sell coffee beans. Leave a business card at each location you visit and mention that you offer free samples.